Ratan Naval Tata is the world known Indian industrialist and investor. He is the creator of Tata Nano, the world's cheapest car. He is also known for corporate ethics. He is a distinguished philanthropist of India. He received Padma Vibhushan, Padma Bhushan and several other awards. He is the first and only Indian to receive the 'Knight Grand Cross of the Order of the British Empire', one of the Britain's highest civilian honours, since India became a Republic in 1950.
Ratan Tata is the first Indian civilian to fly F-16 Falcon in 2007. He owns a Dassault Falcon 2000 private jet. He is a trained pilot and flies his own private jets and other jets owned by Tata Group. Tata Hall, a building at Harvard, is named in honour of Ratan Tata.
Ratan Tata started his career as a blue-collar employee. After few years, he was promoted to management. Later on, in 1991, he was given the responsibility of chairmanship. During 21 years of his leadership Ratan Tata expanded Tata group to unrelated businesses and made Tata a global brand.
There is a story of sweet revenge by Ratan Tata, from Ford . At one point of time, when Tata Indica was not gaining success, Ratan Tata and his team tried to sell it to Ford. But they faced humiliation, when one of the Ford official said, " You do not know nothing, why did you start the passenger car division at all?" Ratan Tata then took the decision of not selling their business and in fact, made it a huge success. Nine years after that incident, when Jaguar and Land Rover was going through a rough patch, Ratan Tata decided to acquire the JLR brand. At that moment, Ford Chairman words were,
"You are doing us a big favor by buying JLR."
Below is the Ratan Tata's Great Musings that defines him well: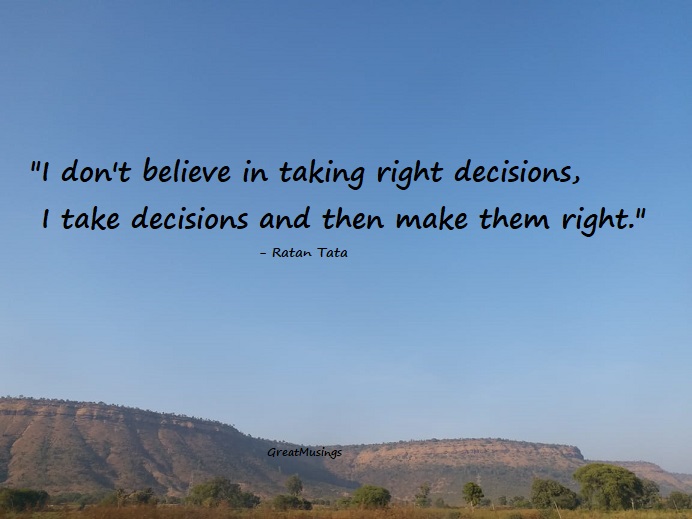 Decisions define destiny. People make courageous decisions based on where they want to be. Making right decisions is an indispensable skill.