You have to dream before the dream comes true.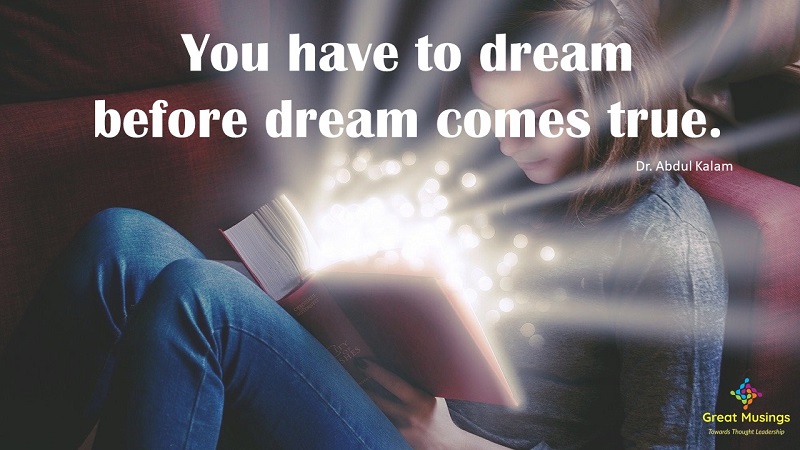 This is one of the quotes by Dr. Abdul Kalam or Dr. APJ Abdul Kalam. He was rarely called by his full name Avul Pakir Jainulabdeen Abdul Kalam. He was born on 15th October, 1931, at Rameswaram in Tamil Nadu. His father was a boat owner and mother, a housewife.
Despite the fact that Dr. Abdul Kalam was raised in a poor financial condition, he had a strong desire to learn and gain knowledge. He supported his family by selling newspapers at an early age.  Along with being the helping hand in the family, he worked hard in studies. Dr. Kalam became a world- renowned scientist, a teacher and a celebrated author. But above all, he was a great motivator. He always wanted children to be productive and practise innovative thinking.
For four decades, he was a scientist at DRDO and ISRO. He also acted as the scientific advisor to the Prime Minister of India. Later, he became the 11th President of India, for the tenure of 5 years from 2002  to 2007. He was the first bachelor and vegetarian President of India. Dr. Abdul Kalam was very down to earth and an inspirational figure worldwide.
Dr. Abdul Kalam missed his dream to become a fighter pilot, as there were eight vacancies in IAF and he was in the ninth position. But, this dream of his was achieved during his Presidency. The first Indian President to fly a fighter plane was Dr. APJ Abdul Kalam.
Missile Man:
Dr. Abdul Kalam is also said to be the father of India's missile program because of his contribution towards the development and operationalization of Agni and Prithvi missiles. He is still popularly remembered as the Missile Man of India. 
Dr. Abdul Kalam played a major role in making India a nuclear power. His organizational, political and technical contributions were behind the success of Pokhran II tests in 1998. Being one of the best known nuclear scientist, Dr. Abdul Kalam was also admired worldwide.
People's President:
Dr. Abdul Kalam was also commonly known as the People's President, because of his love and care for everyone, be it a rich or a poor, young or old. Those who met and interreacted with Dr. Kalam were floored by his humble nature.
After his presidential term, he became the visiting professor at IIMs and other institutes. He also travelled to various remote places of the country to inspire people for studies and motivate them to follow their dreams.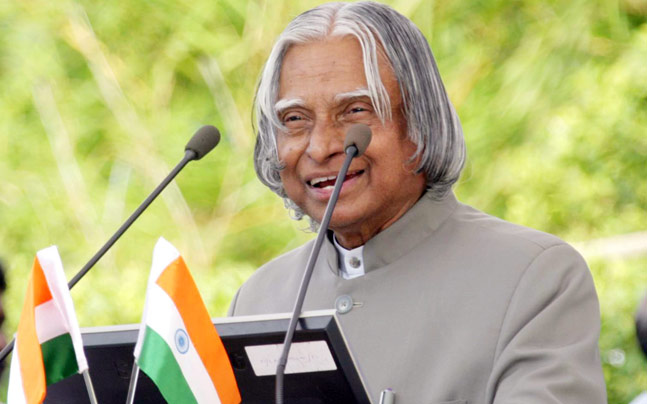 Awards and Recognitions:
He received honorary doctorates from 48 universities and institutions from India and abroad. He was also conferred upon India's highest civilian award, the Bharat Ratna. The tally of honors received by Dr. Kalam is long, including:
Padma Bhushan
Padma Vibhushan
Ramanujan Award
Veer Savarkar Award
King Charles II Medal and many more.
Dr. Abdul Kalam: India's Pride
Tamil Nadu declared the Dr. APJ Abdul Kalam's birthday as 'Youth Renaissance Day'.
Switzerland celebrates his day of visit there, May 26th, as Science Day, in his honor.
NASA named newly discovered kind of bacteria in International Space Station as Solibacillus kalamii to honor late Dr. Abdul Kalam.
Botanical Survey of India named a newly found plant species as Drypetes kalamii, to honor Dr Kalam.
Several educational and scientific institutions were renamed to honor Dr. Abdul Kalam, following his death.
A national missile test site, which is an island in Odisha was renamed as Abdul Kalam island.
A prominent road in New Delhi was renamed to Dr APJ Abdul Kalam road.
A planetarium in Sambalpur, Odisha was named after him.
Last year Vice President released a book in his name

: "

40 Years with Abdul 

Kalam: Untold Stories"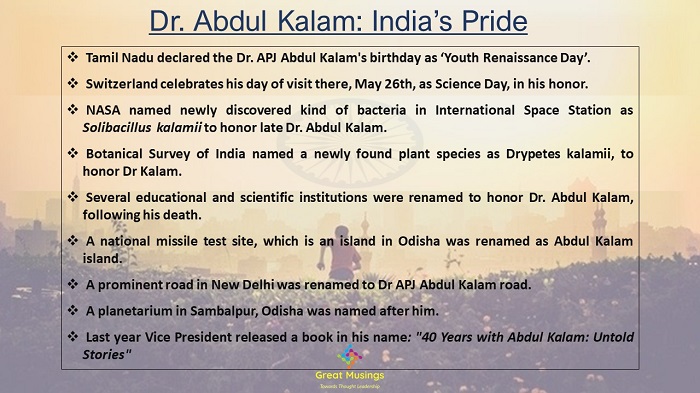 Lets take a  3D Walk through of Dr. APJ Abdul Kalam Gallery at DRDO Headquarters on DRDO website.
Books written by Dr. Abdul Kalam:
Dr. Abdul Kalam wrote many inspiring books. Out of 25 books written by him, 10 inspirational ones are suggested below:
My Journey: Transforming Dreams into Actions
My Life: An Illustrated Autobiography
You are Unique: Scale New Heights by Thoughts and Actions
Turning Points: A Journey through Challenges
Forge Your Future
Learning How to Fly: Life Lessons for the Youth
The Guiding Light: A Selection of Quotations from My Favorite Books
You are Born to Blossom
Ignited Minds: Unleashing The Power Within
Wings of Fire – This book was first published in English. Later it was translated into 13 languages including French and Chinese.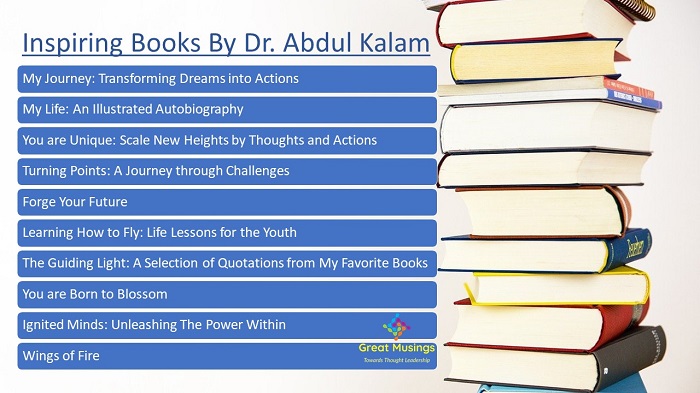 Death:
After his sudden demise at Shillong on 27th July 2015, we lost a great Indian leader and an extraordinary teacher. He was laid to rest at Pei Karumbu, Rameswaram on 30th July 2015.
Dr. Abdul Kalam always wanted to be remembered as a 'Teacher'. Opportunely, his last moments were with students. On 25th July, 2015, he went to deliver a lecture to students at IIM, Shillong. Within a few minutes of starting his lecture, he collapsed on the stage due to cardiac arrest. The whole nation was shocked and saddened due to this sudden loss of one of the most respected and loved leader.
Philosophy:
Dr. Kalam never owned a television. He was a man of 'Simple Living and High Thinking'. He inspired millions to think big. He will keep inspiring us through his deep and Great Musings. His inspirational teachings will help you throughout your journey of life. 20 of his best quotes selected for you:
Dr. Abdul Kalam Quotes: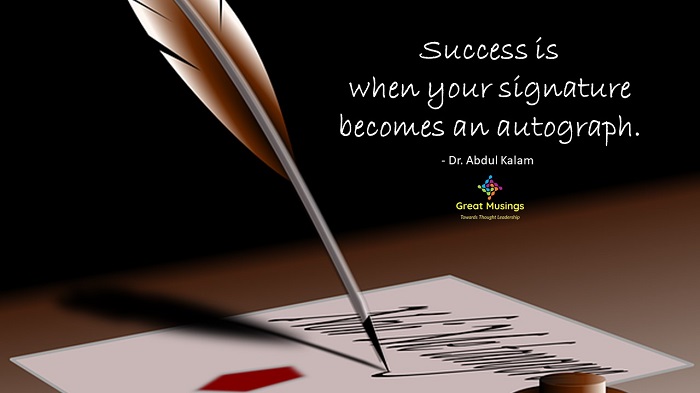 Success is when your signature becomes an autograph.
You cannot change your future, but you can change your habits, and surely your habits will change your future.
Every pain gives a lesson and every lesson changes a person.
If you want to leave your footprints on the sands of time do not drag your feet.
Failure will never overtake me if my determination to succeed is strong enough.
Education is the most powerful weapon which you can use to change the world.
If you want to shine like a sun, first burn like a sun.
Be active! Take on responsibility! Work for the things you believe in. If you do not, you are surrendering your fate to others.
Don't feel low when someone doubts your career. Just be proud to yourself, because people always doubt the GOLD for it's purity, not the IRON.
Winners are not those who never fail but those who never quit.
A dream is not that which you see while sleeping, it is something that does not let you sleep.
Life and Time are the world's best teachers. Life teaches us how to make good use of time and time teaches us how much the value of life.
Excellence happens not by accident. It is a process.
If you fail, never give up because Fail means "First Attempt In Learning".
Never be a prisoner of your past. It was just a lesson, not a life sentence.
Don't read success stories, you will only get a message. Read failure stories, you will get some ideas to get success.
One best book is equal to hundred good friends, one good friend is equal to a library.
Small aim is a crime; have great aim.
Life and time are the world's best teachers. Life teaches us to make good use of time and time teaches us the value of life.
Dream is not that which you see while sleeping it is something that does not let you sleep.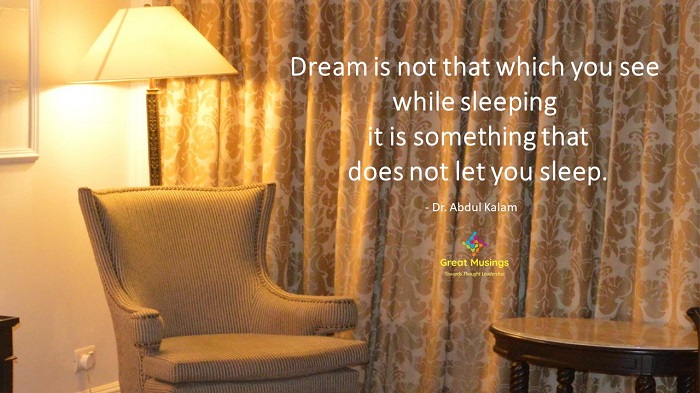 Give wings to the fire in you. Spread the goodness. Let the world receive the nobility of your deeds.
Here's a visual quote book on Dr. APJ Abdul Kalam to get inspired:
Read other short inspiring stories.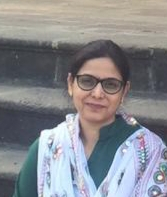 Latest posts by Neha Pandey
(see all)